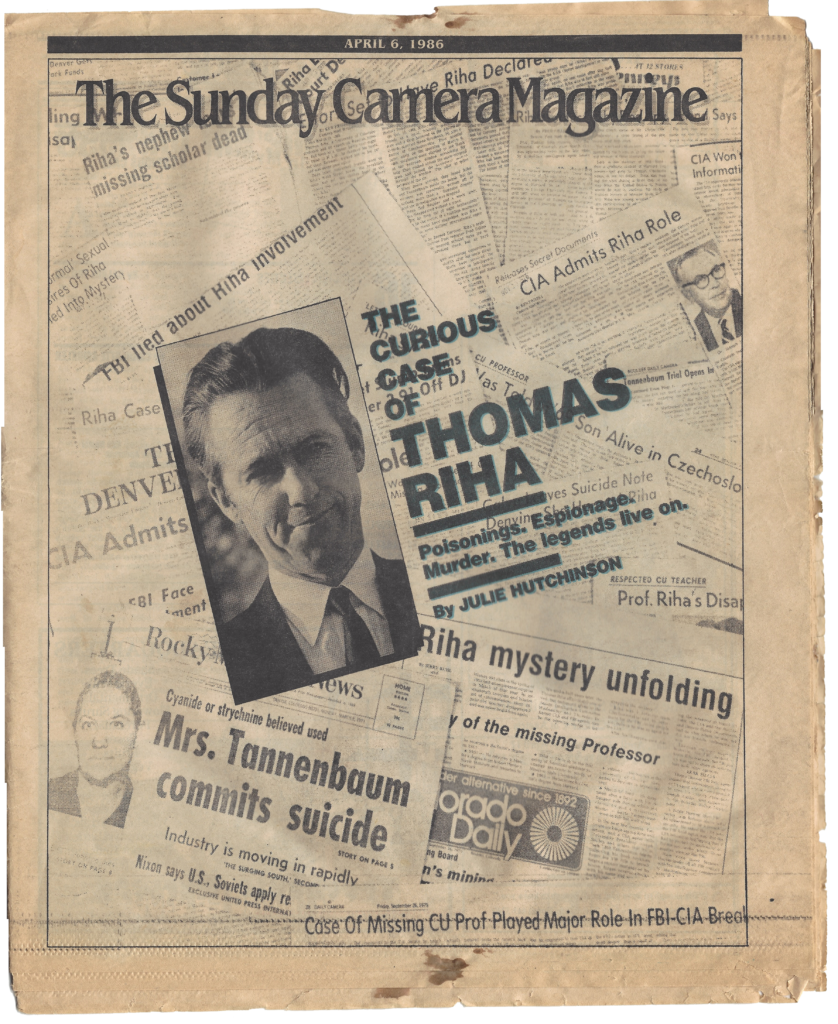 LOVE, SPIES, CYANIDE
Feature Documentary

LSC/The Inside Story is a documentary film probing the real life case of Galya Tannenbaum and Professor Thomas Riha, a cold case, a tragedy and an utter baffling and mystifying story that caused shock waves in Denver, Colorado in 1971. The story eventually caused a stir in the press nationwide and was historically the first of its kind that brought chaos and disparity between the FBI and the CIA that resulted in both agencies not communicating with one another. Sadly the story has been forgotten with tons of holes in the storyline rarely explored; children were left behind and dumped into foster care as well as families on both sides left with absolutely no answers to what happened to their loved ones, a tragedy to say the least. Why?
Galya's close confidant Professor Riha went missing in 1969 and was never seen or heard from in over fifty years! Soon after his disappearance Galya was suspected of fowl play in connection with the case in this often twisted and surreal story and then later she was found dead of cyanide poisoning while awaiting justice serving time in a mental institution for the criminally insane. She denied any involvement in Riha's death but stayed mum about other circumstances in their twisted lives.
What happened to Professor Riha? Were the charges false and trumped up against Galya or did she have something to do with his disappearance? There are many speculations that Riha, an Eastern European, Czech native might have been working for the Russians and later turned and worked for the Americans; after all Riha was one of the premiere authorities on Russian History, getting his degree in Moscow and then later a move to the U.S. teaching at Harvard, The University of Chicago and he was also outspoken about his support of Communism and Socialism which caused him to lose his position in Chicago and move to Colorado. Galya also rumored to be a supporter of these ideals, followed Riha from Chicago to Colorado as well as some of their so called friends. Those friends also met with untimely deaths of cyanide poisoning while living in Colorado before the allegations against Galya were started.
A recent quote from an article in the Hollywood trades stated: "Documentaries exist to tell complicated stories". Complicated seems too mild a word to describe this baffling mystery.
There are many different opinions about Galya, that she was a grifter, a dreamer, an activist, a patriot fighting against social norms, a political anarchist, a woman scorned, and a liberated woman during the start of the feminist revolution, or someone grasping for fame in a world at the time of utter turmoil. She was also a self taught artist that could paint and draw like a master artist, a renown calligraphist and often worked doing graphics. She was also accused of being a master forger. Did the Chicago mob hire her to forge art and documents or was she just a woman of her times. After all the late sixties landed the U.S. in a horrendous war in Viet Nam, the civil rights movement was on fire and women were fighting for equality while the youth were rebelling in one of the most prolific revolutions at home. How could these things not affect anyone under forty in the sixties? Was Galya a woman ahead of her times or just a con woman trying to feed her children? There is no question that this time in America is often described as turbulent.
What about Riha? What's his story? There are lots of differing opinions about Galya but hardly any about Riha? Did the revolution in Czechoslovakia that occurred during these times when Russian tanks pulled into Prague and massacring Czechs have anything to do with Riha's allegiance to Russia? Was there an allegiance or was he hell bent on revenge? We do know that his beloved mother was a member of the resistance party during WW II and had some strong opinions about the Soviets.
What and why did Riha and Galya form an alliance? Were they lovers, friends, comrades in a cause or all of the above or neither? Were they set up to work together? How did they really meet? Why a woman firmly grounded in the Midwest all her life would pack up her children and her life and follow this man across the country? Was he her Svengali or was she his?
LOVE, SPIES, CYANIDE dares to explore these mysteries. Anything and everything will be probed in this film. The filmmakers are setting up filmed interviews across the country with anyone and everyone who might have critical information to find the real truth of Riha's disappearance and why Galya was the prime suspect, the lamb being led to the slaughter. It's also baffling why the U.S. government abandoned such a case, after all the Senate Select Committee of Intelligence convened a special a special session at the time to investigate Professor Riha's disappearance, even J. Edgar Hoover entered the fray with his take but refused to share his thoughts with the American public. Some say this stand off within our own government agencies might have contributed to the horrible attack on NYC on 9/11 because both the CIA and FBI refused to work together at the time; again THIS CASE is the one that tore them apart! The case tore families apart; that we know. It's time to search for answers, for evidence, for truth, not only for our country but for the families whose lives were forever changed.
Contact Info: James Norton, 714 390-1505
james@oceancoast.com
Executive Producers: James Norton, Richard Price, Michelle Loveall